Reflection
This week's blog is more like a journal entry. I've been systematizing my business and working through some content classes with Rachel Miller.
I bring this up because she recommends getting 100 days of content options ready by pulling together photos, shooting videos, and knowing your conversation starters. So I started combing through all the pictures I had and came across the one from Former President Bill Clinton and me.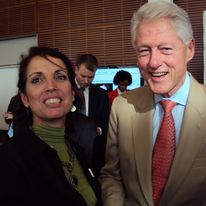 Now he is not someone I voted for, but I had to appreciate his contribution to society and that, even after his scandal, he stayed in the public eye and continued to do good works. You have to admire someone true to their cause. The event of our meeting was the launch of Kiva in Arkansas. I was very much into community development at the time and was pleased to represent my small community at this event. Kiva is a beautiful micro-loan platform that has assisted several small businesses across the globe get their start.
So often, we write in our journals or take photos, and they stay stored somewhere, never to be seen or reread. Without reflection, we lose the opportunity to grow. When was the last time you read your journal from 5 years ago? What did your younger self have to say that could be pertinent today?
I know it is a daunting task, but perhaps it's time to clear out some photos, review some journals and simplify life. I like to review my journals every other year or so and highlight the phrases that seem incredibly insightful. I have yet to move them to a single online document, but I believe that is next on my list. Our younger selves had some brilliant moments of clarity that should not be lost. Besides, your children or grandchildren will love asking you, "Who was Bill Clinton?"
---